Baby Blessings & Baptisms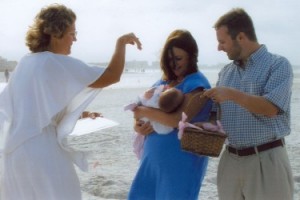 Many parents choose to celebrate their child's birth with a ceremony in a non-traditional setting. I specialize in ceremonies on the beach, in your home, a beautiful garden or other unique settings. I offer both a Baby Blessing Ceremony and Baptism Ceremony. Some parents choose to combine both while others prefer to use the Baby Blessing Ceremony only since it is more spiritual and less religious. As a non-denominational Minister I take pride in meeting your needs. Ceremonies are offered for all age children and sometimes for their parents, too!
LGBT/GAY WEDDINGS
Once marriage equality was enacted in Florida in January, 2015, I have had the pleasure of officiating several same-sex marriages. Many of my couples, both men and women, have been together many years and are so happy that at last they can be legally married.
William, pictured with his partner, Rick, has written an endorsement for me: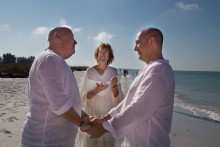 "Rev. Susan. What can I say? Once marriage equality finally became a reality here in Florida we began thinking about what we wanted to do. The idea of just going to a Clerk of Courts left us underwhelmed so I did a Google search, hit the 'I'm feeling lucky' tab, and there she was! We had a beautiful, intimate ceremony on the beach at Anna Maria Island and feel blessed that we crossed paths with Rev. Susan. I can't imagine a more perfect thing for us than what we had."
Unity Shell Celebration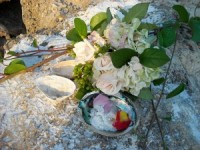 The Unity Sand Ceremony is symbolic of your shared commitment and the joining of your lives. It serves to represent the joining of your lives into one. This is done by pouring your sand from your individual shell into a larger shell. If children participate in the sand ceremony, the pouring of each individual's sand affirms that each is committed to being a family unit. For blended families, the sand ceremony provided a good opportunity for all members to feel they are an important part of the proceedings and the newly formed family. The larger shell is my gift to you.
Personalized Ceremonies
I feel passionate, joyous, and honored when I officiate at a wedding ceremony! My wish for you is to have a perfect ceremony which reflects who you are, your hopes and dreams and one which you will remember forever as beautiful and special. It is my wish to help you create a fulfilling and meaningful ceremony that is uniquely yours whether you and your beloved have the same or different faiths or are simply spiritual or non-religious or multi-cultural. You may write your own ceremony or you may decide to change mine in any way you wish such as writing your own vows. You may add poems and/or scriptures that have special meaning to you to be read by family or friends. Children may be included in your ceremony and given an opportunity to bless your marriage. You may add a Remembrance for a person or persons who have passed.
Other ways of personalizing your ceremony is to have non-traditional music such as your favorite songs as recessional and/or processional music, butterfly or dove release, rose exchange, Irish hand fasting, shell toss and many other interesting and unique additions. . The Unity Shell Celebration is always included, if you wish, using a big beautiful shell that is my gift to you. I have officiated ceremonies in non-traditional settings such as boats, carriages, in the gulf and other fun places at most times of the day and night. My most memorable ceremony time was at 1:00 AM on Christmas morning!
Pre-Marital Counseling
I am available for pre-marital counseling prior to your wedding. The number of sessions differs from couple to couple, however I recommend at least two sessions. These sessions will help prepare you for your upcoming marriage. Pre-marital counseling is not required, however you may find it helpful to better understand yourselves and to resolve any issues that you may have which may come between you as wife and husband. I will also help you learn communication skills and conflict resolution.
When I had a private counseling practice in Pennsylvania, one of my specialties was pre-marital and marital counseling. I received my Master's Degree in Social Work from Temple University.