Your wedding is important to me. I feel every wedding ceremony is to be as wonderfully different as you as a couple are. Together we will create your wedding with personal, heartfelt and memorable vows to be a non-denominational wedding ceremony which is either a spiritual wedding ceremony, a religious wedding ceremony or a civil wedding ceremony.
Special Additions to Your Ceremony
A complimentary Unity Sand Celebration is included in your ceremony, if you wish, and the big shell is my gift to you
If you have children you wish to include in your ceremony, I have a beautiful family ceremony. Other additions to your ceremony may be the Irish Handfasting , White Rose, Dutch Wedding Box, Butterfly or Dove Release, Glass Breaking, Shell or Stone Toss, Wine or Sake Exchange ceremonies and many other additions. You may add special poems or readings to your ceremony that may be read by family or friends.
A remembrance of a deceased family member in your ceremony is a beautiful and meaningful addition
Renewal of Vows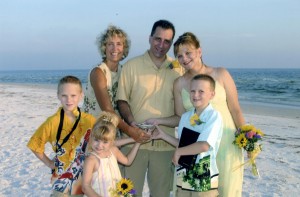 Your anniversary is the time to celebrate all the beauty and growth of your years together. Remember what brought you together and give yourself the gift of a beautiful ceremony to commemorate your union. Many of my couples bring their children, if there are any, to join into a family renewal of vows ceremony. Witnessing their parents join their hands and hearts as they affirm the magnitude and strength of their enduring love is a beautiful experience for your children. They may be included in the Unity Sand Celebration, if you wish. You may exchange the rings from your original wedding again or you may exchange new ones. Your ceremony will be be personalized to reflect your lives together. The words of this poem may express your lives together.
"Now you will feel no rain, for each of you will be shelter for the other. Now you will feel no cold, for each of you will be warmth to the other. Now there will be no loneliness, for each of you will be companion to the other. Now you are two persons, but there is only one life before you. May beauty surround you both in the journey ahead and through all the years, may happiness be your companion and your days together be good and long upon the earth.

Treat yourselves and each other with respect, and remind yourselves often of what brought you together. Give the highest priority to the tenderness, gentleness and kindness that your connection deserves. When frustration, difficulty and fear assail your relationship as they threaten all relationships at one time or another – remember to focus on what is right between you, not only the part which seems wrong. In this way, you can ride out the storms when clouds hide the face of the sun in your lives. remembering that even if you lose sight of it for a moment, the sun is still there. And if each of you takes responsibility for the quality of your life together, it will be marked by abundance and delight." ~Author Unknown
Sarasota Wedding Venues and Other Locations
I officiate ceremonies on Sarasota island beaches for Siesta Key weddings and other ceremonies where the sand is so fine and white it feels like powder and other beautiful Florida beach destination wedding and ceremony locations, such as Lido, Longboat Key, Anna Maria Island, Bradenton Beach, Coquina, Venice, Casperson Englewood, Nokomis, Boca Grande, Palm Island, Manasota Key, Venice, Englewood, North Jetty, Brohard Park, Turtle, Casey Key, and other beaches. Siesta Key was voted the most beautiful beach in the United States in 2011 by Dr Beach.
You may choose to have your Sarasota area ceremony in a beautiful garden such Selby Gardens, Ringling Museum Garden, Sarasota Garden Club. Bayfront Park or a beautiful mansion such as the Crosley Mansion or the Phillippi Mansion. Other unique venues are the Mote Aquarium, Sarasota, Opera House, A Floating Chapel, Van Wezel Performing Arts Hall, Venice Train Depot, and the Sarasota Classic Car Museum. Also available are quaint chapels such as Mary's Chapel at Spanish Point or the Green Street Chapel. Sarasota has many elegant hotel venues and country clubs, restaurants and boats or yachts with inside or outside ceremony locations. If you are so fortunate to live here in the Sarasota area, ceremonies may be held in your home.
FL Marriage Licenses
A marriage license is required to be married in Florida. You may apply for a marriage license in the state of Florida either in person or by mail. If you apply in person, you may go to any Clerks Office in any Florida county courthouse to be married in any county. You both need to bring a photo I.D. which is commonly your driver's license or a passport along with divorce dates, if any, and your social security numbers. There is a 3 day waiting period for residents of Florida and no waiting period for out-of-state residents. The license is valid for 60 days and needs to be filed at the county clerk's office within 10 days of your ceremony. I can file it for you and you will get a certified copy in 30 days or I can sign it for you on the day of the ceremony and you can take it to the courthouse and obtain a certificate of marriage immediately. Witnesses are not required, although the license has a place for two signatures, if you wish. I officiate many marriages for couples who live in Europe, Canada and all over the world so US citizenship is not necessary to be legally married in the U.S. Witnesses are not required by the State of Florida so just the three of us need to be present at your wedding.
You may obtain further information on the Sarasota County site by going to Sarasota County Marriage Licenses.
You may obtain a marriage license through the mail (extra fee for processing plus the cost of the license) by contacting Sherry Matthews at Florida Marriage License Express.