Longboat Key Sarasota Wedding-Cake Toppers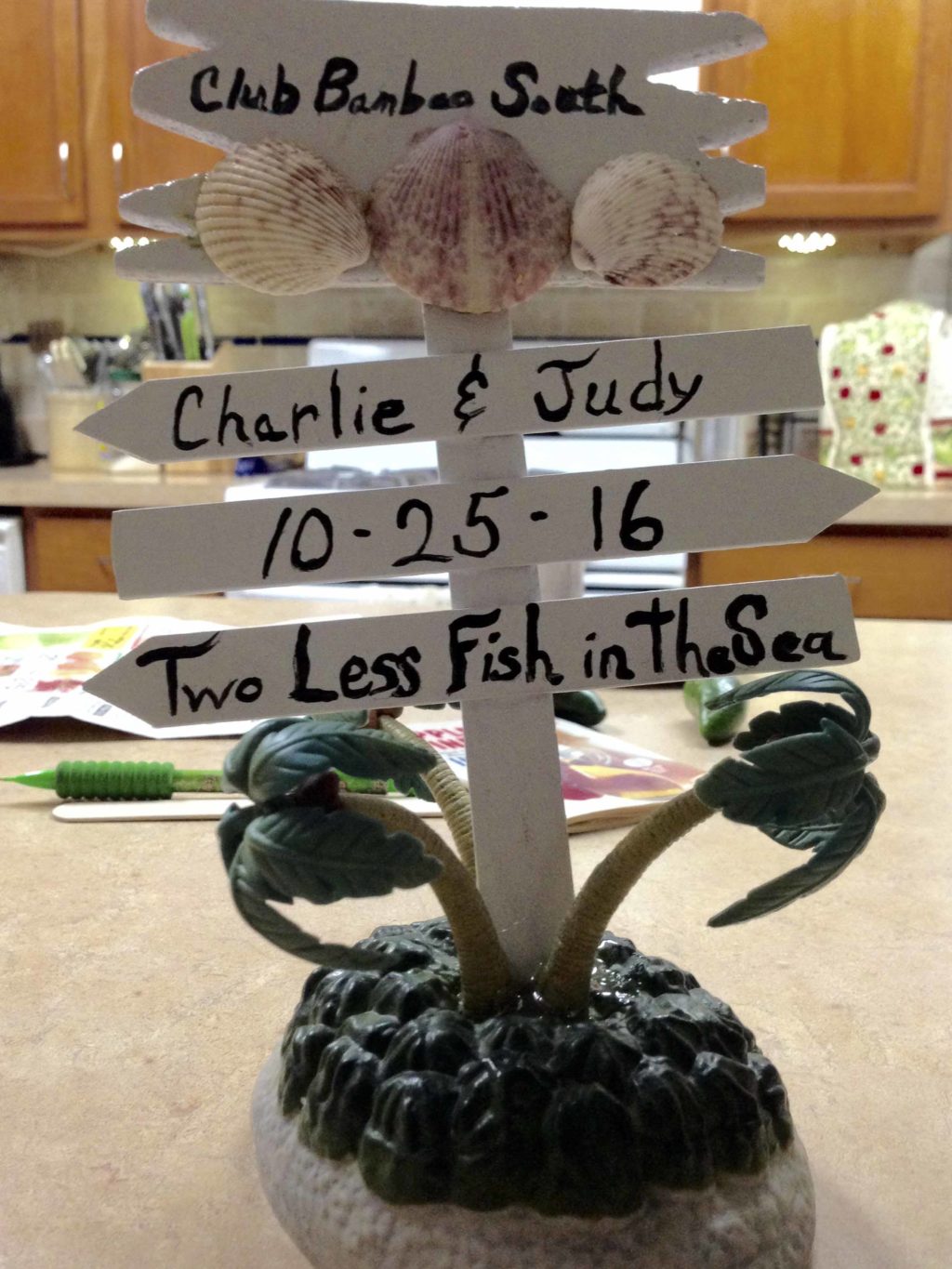 Wedding Cake Toppers
You can design your own cake topper for your wedding cake!  Above is a picture of a  beautiful, original and funny cake topper from a wedding on Long Boat Key Sarasota beach. The couple designed the cake topper themselves. I married this delightful couple recently.
The wedding cake topper has a long history and has been a tradition in weddings for a long time.  The story goes that it was first used over 100 years ago when the daughter of a baker was getting married.   She asked for father to make some symbol of the love between she and her groom that everyone could see.  He secretly placed two figurines on top of the wedding cake.  One of them symbolized his daughter and the other her future husband.  The baker felt this was the perfect symbol of their love and their unity.
On of wedding day the daughter was so excited to see the cake and was overjoyed with the beautiful gift her father had given her.  The figurines stood in the center of the cake and the the center of the wedding.  They showed the importance of the love between the couple.  Ever since its introduction, a topper on a wedding cake has long been a traditional symbol for married couples. These are always symbolically placed on the top of wedding cake  so that everyone can see them.
Some suggestions about choosing a cake topper are:
1. Your wedding cake topper should be a piece that reflects your style as much as the cake it adorns.
2. The topper should be personalized to look like the bride and groom. Choose something that shows a shared hobby or interest.   A personalized topper makes your wedding very creative and adds a sheer layer of romance, gliz and glamour to the reception.  Stay away from the usual generic plastic bride and groom design.
3. Ask the baker, friends and family to help you design a topper which is a good fit for you.
4. Family Heirloom – To honor your parents, grandparents or someone else close to you  why not use that topper from that persons wedding?  It not only adds a lot of emotional value, but also pays homage to someone special.
The idea is that whatever style you pick for your wedding cake topper, it should be a symbol of your personality, your style and your marriage. That is what makes it a special piece to be cherished forever.
Cake toppers are not just decorations on cake. They serve as the symbol of love between the unity of two hearts coming together as one forever.