SARASOTA SIESTA KEY HANDFASTING WEDDING CEREMONY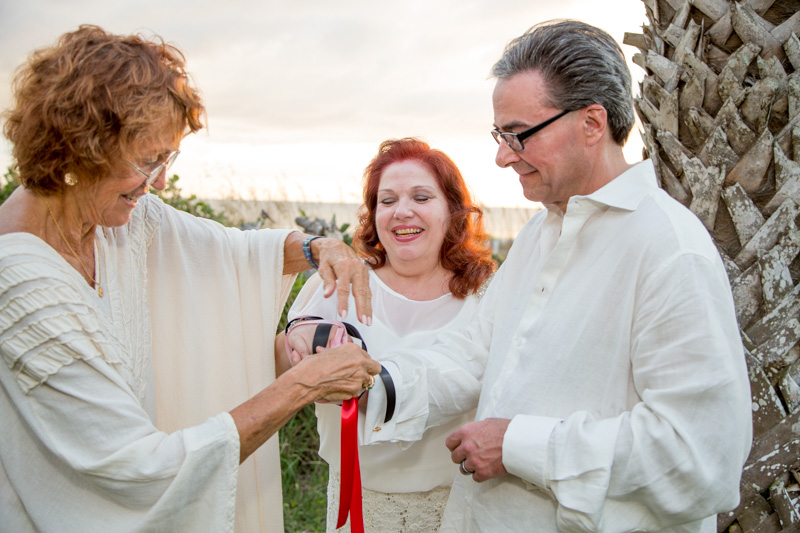 HANDFASTING CEREMONY
Many of my couples choose to do the Handfasting Wedding Ceremony during their wedding ceremony on Sarasota, Siesta Key, Anna Maria, Lido, Venice, Englewood, Manasota Key, Casey Key and other beaches in the Sarasota vicinity or ceremonies in a home, hotel, country club and other venues. This is a beautiful picture of a couple loved their Handfasting Wedding Ceremony. Photo by Elan Photo. Handfasting can also be added to a renewal of vows ceremony.
The ribbon binding their hands their hands signifies that God has joined them together. As their hands are bound, so are their hearts, minds and souls.
As they hold the hands of their beloved, they listen to what I am about to say. "Above you are the stars, below you is the earth. As time does pass, remember , like the earth should your love be firm and grounded in your humanity. Like a star, should your love be constant, imbued with the light of God. (or imbued with light). Let the powers of the mind and of the intellect guide you in your marriage. Let the strength of your wills bind you together. Let the power of love and desire make you happy and in the strength of your dedication make you inseparable". This couple loved their Handfasting Ceremony!