Unity Sand at Sarasota Wedding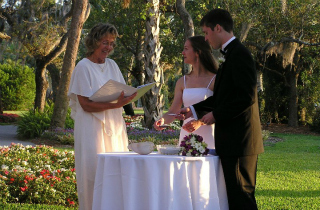 The couple pictured were married in a formal destination wedding at Selby Gardens, one of the the beautiful venues available for Sarasota weddings. On their wedding day, a bride and groom make an eternal love for one another. As a symbol of this vow, they fill up their small shells with sand. The separate containers of sand represent their lives to this moment, individual and unique. And then, as they pour their sand into a big shell, their sand combbines showing that their lives have also joined together as one. The ceremony chosen by the couple was part of their non-denominational wedding ceremony.
The unity sand celebration may be used on the beach, such as a Siesta Key wedding, where the couple scoops up the sand directly from the beach or at a more formal wedding where a table is used for the Unity Sand Celebration. The couple came from another state to celebrate their destination wedding in Sarasota.
When we are not on the beach, I bring the beautiful white crystal sand from Siesta Key Beach to be used in the wedding ceremony.