MARRIAGE EQUALITY WEDDING- SARASOTA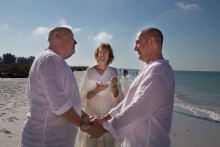 On January 6, 2015, Florida was the 36th state to embrace marriage equality in the United States.   As more states join marriage equality, it the clear that America is ready to become a country where the legal freedom to marry is fully accepted.
According to the US Census of 2010, over 48,000 same sex couples are living together in Florida.  I have married several couples in recent months and they are thrilled that their relationship can now be legalized.  My couples show a deep caring for each other and many have been together several years.
I am honored to officiate at their marriage ceremonies.  The picture is with one of my couples where the ceremony took place on a Sarasota Beach three weeks ago.